SPARES - REPAIRS - SERVICE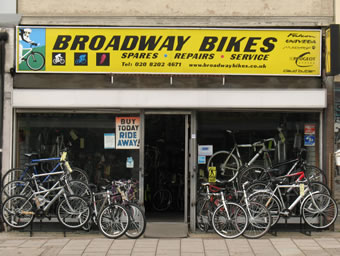 Broadway Bikes is that rarity in London, a friendly, family run cycle shop.
The business was started in 1981, by an 18 year old, promising racing cyclist, with no money but bags of enthusiasm and an initial stock of five second-hand bikes! The shop quickly gained a reputation for personal service and great value for money.
Now, nearly 30 years later, we are firmly established as the area's independent specialist local bike shop. Located on the main Edgeware Road in West Hendon we have developed a large customer base, not just in Hendon, but also Edgeware, Colindale, Kingsbury, Golders Green, Hampsted, Cricklewood, Kilburn and Willesden, in fact we have customers from all over North and North West London.
We keep a full range of ladies and gents bikes, including mountain bikes, hybrids and racing bikes, we also have children's cycles for all ages. We always have a large selection of accessories in stock, lights, locks, helmets, comfortable saddles, and all the add-on's and upgrades you could need for your bicycle. We also have a vast range of spare parts to keep your bike running, and we have a hugely popular workshop, where we can offer expert and quick cycle repairs and bike servicing on any make and type of bike.
Broadway Bikes is a proud member of the Association of Cycle Traders, we are a real bike shop, and we do not sell car parts, prams or toys. The shop is run by the owners, who have a wealth of knowledge and expertise and really know their stuff. To us you are a valued customer not a statistic on a balance sheet.
We can supply you a ride to work bike through Cyclescheme - the UK's number one provider of tax-free bikes under the Government's Cycle to Work Scheme -
Check out www.dft.gov.uk for more details
Broadway Bikes is also an authorised dealer for cycle-plus - a government approved scheme that allows you to hire a bike and online health pharmacy, safety equipment from your employer for the purpose of commuting to and from work and for use at weekends and evenings.
Check out /www.salary-plus.co.uk/cycleplus for more details.
Useful Information
opening hours

| | | | |
| --- | --- | --- | --- |
| Monday | 9:30 am to 5:30pm | Friday | 9:30 am to 5:30pm |
| Tuesday | 9:30 am to 5:30pm | Saturday | 9:30 am to 5:30pm |
| Wednesday | 9:30 am to 5:30pm | Sundays | 11:00 am to 1:00pm |
| Thursday | CLOSED | Bank Holidays | 11:00am to 3:00pm |

getting here

by train
Nearest tube station : Hendon Central, 10 minute walk
Nearest British Rail / Thameslink station : Hendon, 1 minute walk
by bus
183, 142, 83, 32,
by road
We are situated on West Hendon Broadway, which is the main Edgeware Road (A5) as it passes through West Hendon, approximately 1/4 mile North of Staples Corner.

parking
You can park outside the shop for loading/unloading after 10.00am and before 4.00pm.
Alternatively, there is a large car park opposite the shop entered off Telford Road via Perryfield Way
We accept